We are one week into our
Second Annual Halloween Art Contest!
We haven't gotten any submissions yet, but that's to be expected. Take your time making your art the best it can possibly be! We've got the prizes in hand, so don't worry about us not sending them to you if you win one- we've got it covered.
You've still got two weeks to send in your submissions to

[email protected]
.
That said, there have been some concerns raised about this contest, so I think we should address the elephant in the room.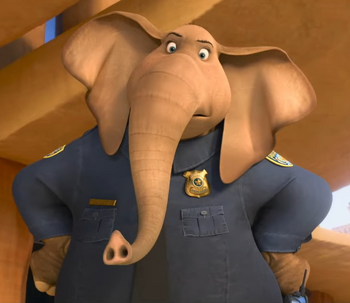 Not you, Francine. Your birthday was a while ago.
No, I'm talking about the last time we ran a big, community-wide event. Namely, National Zootopia Writing Month, or NaZoWriMo. For those of you who have no idea what I'm talking about, last year during the month of November we challenged the fandom to write as much as you can for 30 days straight.
Unfortunately, this did not go well. There was a lack of content submitted, and a SERIOUS lack of work on our end. So today, I'm going to tell you exactly what happened with that. I'm not making any excuses for it- I take full responsibility for the project's failure. But as we begin a second major event, I'd like to start by apologizing for failing you all last year, giving you the full story of what went wrong, and explaining what we are doing to prevent such a failure from happening again.
Read on after the break.
When we started the NaZoWriMo last year, we didn't try to push it to get more attention towards it. As a result, we only received five entries. Because we weren't one hundred percent clear on the rules, there was plagiarism, humans dreaming of going to zootopia and showing up in the last few paragraphs, and simply only referencing zootopia. All of those, by our standards, disqualify a story as being a Zootopia Fanfic, and we couldn't accept them, leading to 3 out of the 5 submissions being disqualified.
In short, we failed to set some proper guidelines and thus, it hurt those who participated. We lost some trust because we failed to deal with this effectively.
I should have stepped in when December ended, but I was assured by the person organizing the challenge that it would be done soon and I gave them more time. As time went by, we simply forgot about it, only remembering when a much less forgetful ZNN member reminded us every few weeks. Again we would say "We'll get it done this weekend,"… and as you can tell, we did not. Because I didn't do my duty to provide content at a designated time, ZNN now has a black mark on its face and name when it comes to projects.
To those who did participate, I sincerely apologize. We neglected you, and you have every right to be unhappy with us. We are considering trying again this November, with a new person at the project's helm, but before we even attempt that, we would like to ask:
Will you let us try again?
Vote here to let us know.
If the majority says no, we won't even bother. But if you give us a second chance, we promise we won't make the same mistakes. We'll communicate what's going on with the contest better, we'll set deadlines to have the articles done by, and if it ends up being a flop, you'll hear it from us immediately, not almost a year later.