And here it is, fans of Zootopia, the big day at last; Halloween is finally here!
There are many ways that folks like to celebrate the holiday; some like to take the kids Trick or Treating, while other like to head for the nearest party.
And some of us, like Nick and Judy, just like to spend the evening at home, binge-watching their favorite horror flicks.
So grab your popcorn, nachos, and pop, pull up a comfy chair and settle down in front of your monitor screen for our Zootopia – Horror Movie crossover marathon.
Enjoy…and don't forget to show the original artists some love by clicking on the source-links.
But first…every good horror movie binge should start off with a spooky cartoon, don't you think?
And here's one of the great Disney classics, Lonesome Ghosts, featuring Mickey Donald, and Goofy.

————————————————————————————————
Soooo, what do you think Nick and Judy have on tap for their Halloween horror-movie night?  Myself, I like to stick to the classics…
…like Dracula…
…Frankenstein…

(If he even breaks into 'Puttin' on the Ritz', I'm out of here.)
…Dr. Jekyll and Mr. Hyde…
Victorina Zootopia by Nightmares4Breakfast
Source [4]
The Mummy. (although this is from the modern version, of course.)
…The Mummy Returns...
…or Phantom of the Opera.
(If you ever get the chance to see the Lon Chaney version, with music provided by a live theater organ, do NOT pass it up.)
Zootopia / The Phantom Of The Opera by quirk-middle-child
Source [7]
Here's a rare one; a crossover of Zootopia and Phantom of the Paradise, a rock-musical version of Phantom of the Opera that almost nobody saw.
(It was directed by Brian De Palma, who later directed Carrie, Scarface, and The Untouchables.)
Or maybe they're checking out something a little more up-to-date.
F'rinstance, The Conjuring…
…A Zootopian Werewolf in London…
…or maybe the Sam Raimi Evil Dead Trilogy.
Nick Vs the Evil Dead Comic cover by EJLightning007arts
Source [11]
…or how's 'bout a good, old-fashioned, 80's slasher film?
…or maybe a sci-fi horror-film?
Of course no Halloween Horror-Fest is complete without a zombie flick…like 28 Paws Later.
…or Nick and Judy could just binge on some episodes of The Walking Dead.
Zinktober, Day 26, Dark by @afruitvegetable
Source [16]
Or….maybe they'll even get into some horror on the extreme side.
"Hello Bellwether…I want to play a game…"
'Course not all Halloween movies are straight-up scary.  There are also horror-comedy flicks.
Ghostbusters, for example…
Gary and Lary as the Ghostbusters by fairytalesartist
Source [18]
…and The Nightmare Before Christmas…which was also musical, (and also, like Zootopia, a Disney film.)
We must not forget The Addams Family, both the live-action and animated versions.
The Wildde Family by skeletonguys-and-ragdolls
Source [21]
Neat…
….Sweet…
…Petite.
The Wildde Family (bonus) by skeletonguys-and-ragdolls
Source [22]
And of course, Nick and Judy: The Curse of the Wererabbit.
But IT absolutely behooves us not to forget the highest-grossing horror film of all time.
"And when you're down here with me…you'll thump, too."
And finally…there are creepy clowns…and then there are REALLY creepy clowns.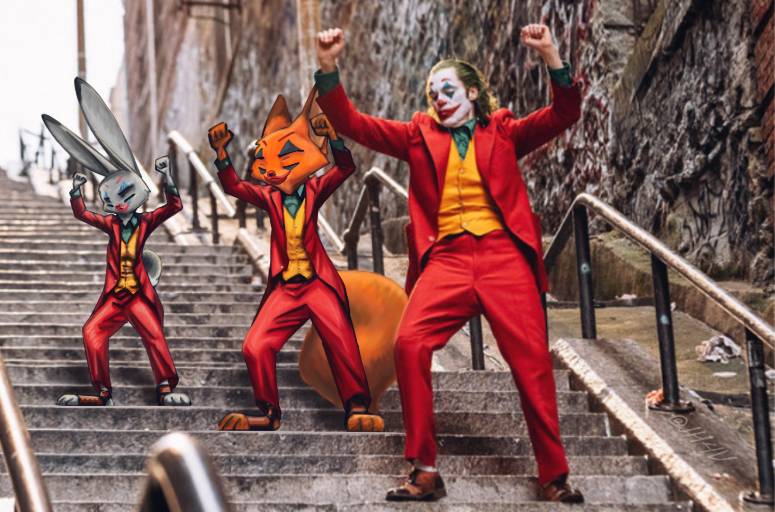 X3 Joker Cosplay by Judy Hopps 44
Source [27]
Until Next Time…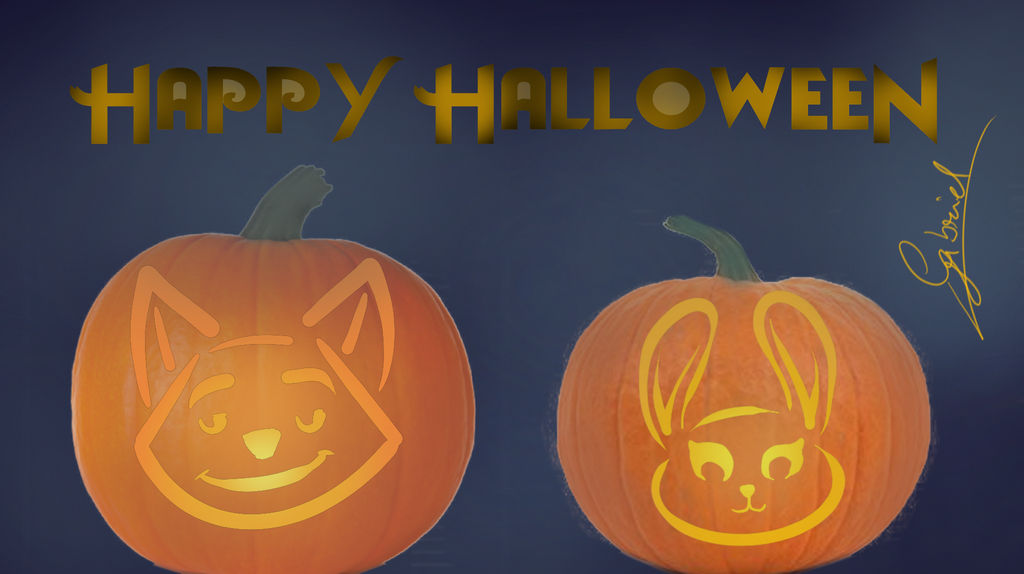 Pumpkins by The Night Manager
Source [28]