A cool Autmun Eveing by Quirky-Middle-Child
Source [1]
And here it is, that time of year again; the leaves are turning red and gold and the air is getting nippy; the kids are back in school and tees and tank tops are making way for scarves and sweaters.  The geese are gathering for their annual southbound excursions, while families gather for tailgate parties in stadium parking lots.
Autumn is here once more.
And so, in honor of the season, we we present our 2019 Zootopia fall fanart collection.  Enjoy…and don't forget to show the original artists some love by clicking on the source links.
———————————————————————————————————–
Here's Nick, welcoming in the season.
And here's Judy.  (I like to kick Autumn leaves, don't you like to kick Autumn leaves ?)
Three pics of Judy, showing off her Fall ensemble.
Awww, Judy looks so sad in this pic.
Luckily, she has a friend to cheer her up
…although sometimes, she carries, this Autumn Friendship routine a mite too far.
Ahhh, but what would Nick do without her?
(There's a comic to go with this pic.)
We continue with a series of images, showing Nick and Judy enjoying the Fall colors together.
Even when you're working,  the Autumn can be an amazing time.
Uh, oh…don't look now guys, but you've got company
Here's one of Nick and Skye.  I really like this pic; it makes me want to bundle up, just looking at it.
Autumn Stroll, Judy and Nick, 25 years later by Stubat
Source [23]
And after an Autumn stroll, there's nothing better than kicking back together in your favorite cafe.
Here's a pair of Fall-themed AU pics.
And finally…Nick and Finnick, enjoying the season together.  (Is the little guy actually smiling?)
Bonus pic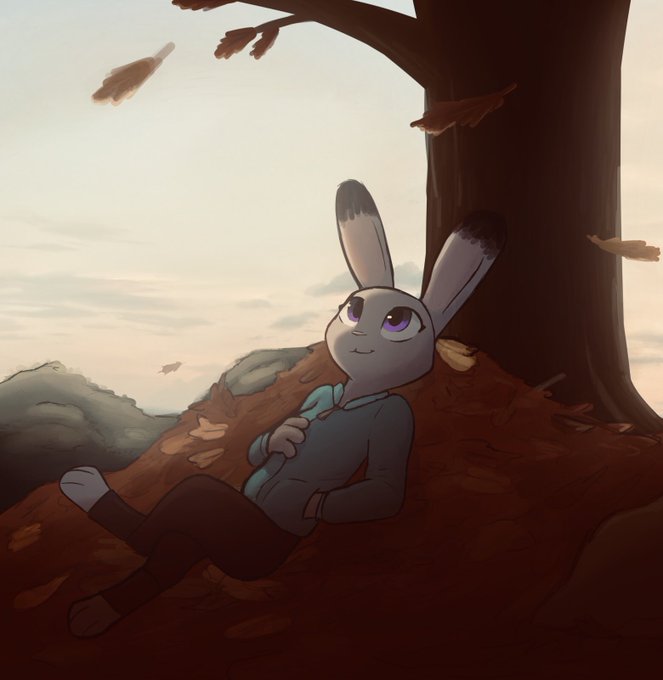 More Autumn Stuff by Engine Trap
Source [28]
Until next time…we leave you with this musical thought.