Hi everyone, and welcome to the 2018 Zootopia Christmas Fanart collection!
Yes, that time of year is upon us once gain, a time of peace. good tidings, and good will, when the wolf shall lie down with the lamb.  (No, not the lion; look it up. )
And so we wish for all our readers the Merriest of Christmases and that the year ahead will be a happy one.
(That…and for Disney to announce that Zootopia 2 is happening.)
Before we get to the pics, a quick shout-out to ZNN staff members Chris Guará and PinkStar_DJLily.  Thanks for all your help, finding so many of these images, guys.
And now, to the artwork, but first…don't forget to show the original artists some Christmas cheer by clicking on the source links.
Get your art after the break!
We open with a foxy Christmas Carol
(RIP Chris Squire)
In keeping with the featured image, here are two more pics of Nick and Judy, together with a big, old, outdoor Christmas Tree
This pic could almost be a Christmas Card
Feral Christmas
Christmas lights are always enchanting
Festive Nick and Judy (Request) by belugatoons
Source [5]
This pic is actually a quadruple crossover.  See that scrawny Christmas tree in Totoro's paw there?  It's the tree from A Charlie Brown Christmas.
"Now officer….I-I can explain everything…."
♪ "Do you want to build a snow-bun?" ♫

Christmas Week – A Quartet of Roses by Qalcove
Source [8]
We can only hope Nick Wilde never gets his paws on this pic.
"You know Clawhauser, if you were to, say-y-y, lend me a twenty I might NOT have to bring this to the attention of the other officers."
Zootopia – The Photo Session by fredvegerano
Source [9]
♪ "Chestnuts roasting on an open fire…
Nick Wilde booping at your nose…" ♫
Nick and Judy celebrating the holiday together
Keeping cozy
Here's two pics of them cuddling up in front of the fire.
Christmas Week — All I want for Christmas by Qalcove
Source [14]
Nick and Judy wrapping presents
Putting up Christmas lights  (Or trying to.)
Christmas Lights by skeletonguys-and-ragdolls
Source [16]
Decorating the tree.  (I really like Judy's outfit in this one.)
Hey fox, it;'s supposed to be JOLLY old Saint Nick.  Get with the program, willya?
That's better…
Santa is a Fox (Pareaon Reward) by yelnatsdraws
Source [19]
Merry Christmas (And happy holidays!) by wiwolf
Source [20]
Judy, the Christmas elf
♪"You're a mean one, Mr. Fin'ck…"♫
How the Fennec Stole Christmas by ferverwildhopps
Source [22]
We continue with some pics of Nick and Judy under the mistletoe.  (Very popular image for some reason.)   
Cut!  Cut!  Cut!  Somebody get Nick the right prop, please!
Nick and Judy – Merry Christmas by peanut-k
Source [23]
———
"Not while you're wearing THAT ugly sweater, Slick."
"Oh, har-har, Carrots."
Nope, it's not late
I know this is late, but it's still Christmas in my heart dammit! by foxefuel
Source [25]
Awwwwwk-ward!
Commish: Next Holiday Season by saccharokirby
Source [27]
But then who needs mistletoe when ya got each other?
(Anybody else got that song stuck in their head, right about now?)
All I Want For Christmas Is You by Trashasaurusrex
Source [30]
We conclude with a section of pics from our previous Art of the Day Christmas albums.
Merry Christmas Zootopia by fairytalesartist
Source [33]
Zootopia anime – Christmas shopping by doeraemonbasil
Source [34]
Nick Wilde preparing for Christmas) by AndrejSKalin
Source [35]
Merry Christmas Zootopia by Fairytalesartist
Source [51]
Zootopia : Best christmas gift by doreamonbasil
Source [53]
Until next time, love and joy come to you, and a Merry Christmas too. 
Bonus Pics!

Reindeer Judy and Santa Nick byしろみや 🐰通販中‏
Source [57]

Zoot Christmas, 2018 by AnotherKnight
Source [58]

Here We Come A-Caroling by Yelnats
Source [59]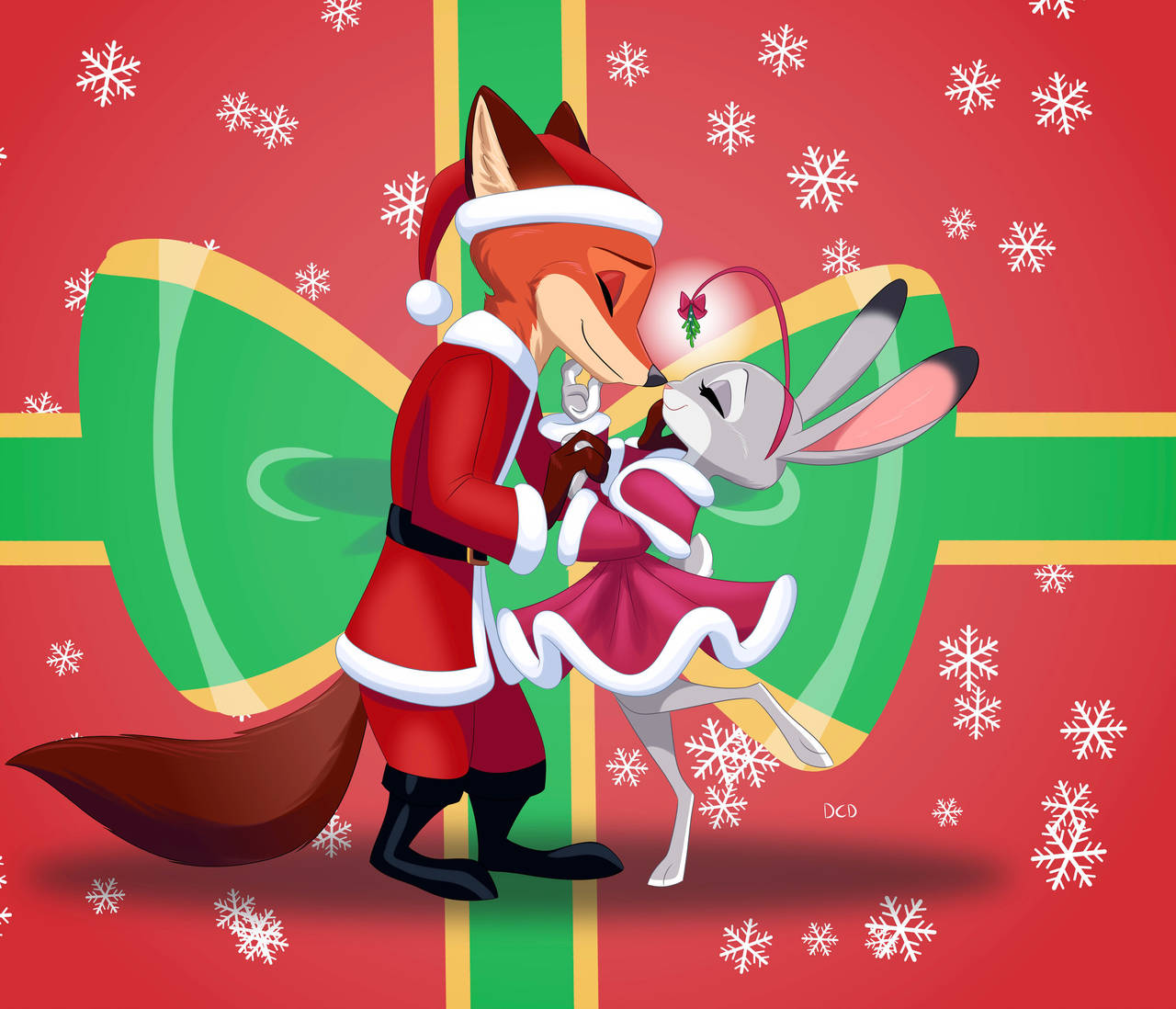 All I want for Christmas is you- by Skelly Doll
Source [60]

'Tis the Season (Lit-Up Vers.) by Qalcove
Souce [61]