I've been waiting to use that official poster for so long now. The marketing for Zootopia has been nothing if not unconventional, and I'd say it's benefited from that.
But that's not what we're here for! Today is May the Fourth, which means it's Star Wars Day!
So, get your fill of A-Nick-in and Judy-Wan below!
(oh goodness I need to start keeping a tally of my horrible puns. It'd be out of this world.)
Nick Solo & Chief Chewiee by Fire--power
Source [4]
Life Beside the Tracks 339 by KendallCollins
Source [5]
Zootopia's Sly Bounty Hunter by richardAH
Source [6]
May the 4th be With You! by The Happy Andying
Source [10]
Kylo Ren-wether [Original title unknown] by jiegenghuay
Source [11]
Zootopia Mashup: The Jedi and the Scoundrel (WIP) by cartoonstudy
Source [13]
Speeder Carrot [Original Title Unknown] by jiegenghuay
Source [14]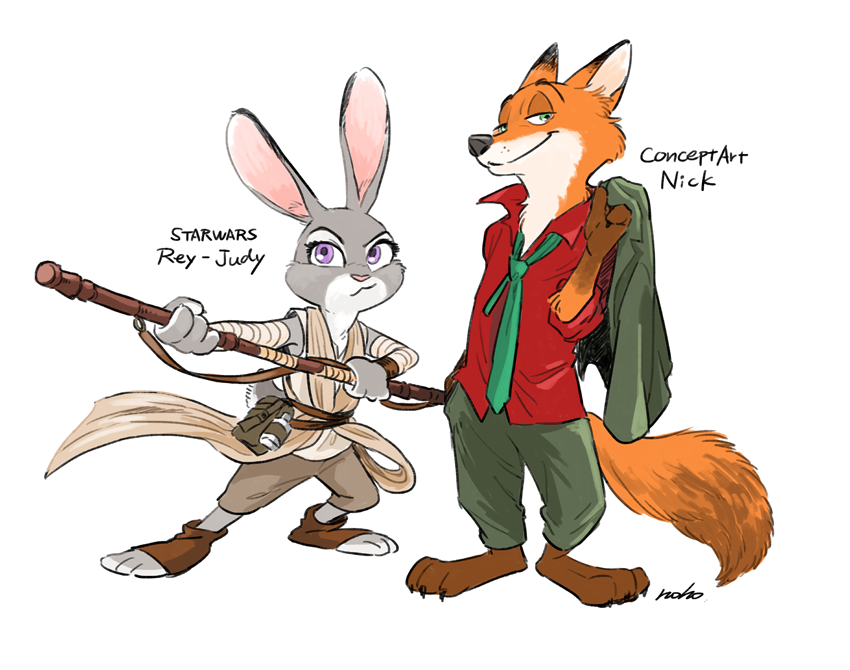 Star Wars Rey- Judy and Concept Art Nick by nohofrog
Source [15]
The Sloth Awakens by Byron Howard (One of Zootopia's Directors!)
Source [16]
Nick Solo [Original Title Unknown] by jiegenghuay
Source [17]